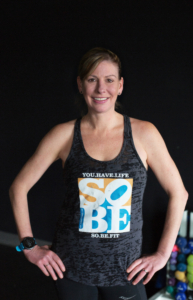 Laura is the founder and owner of So.Be.Fit. She earned her Master's Degree in Exercise Physiology from Indiana University, and also holds the Gold Standard American College of Sports Medicine (ACSM) Personal Training Certification.
Laura saw a gap in the fitness community, and that was her inspiration for opening So.Be.Fit. What is missing? The CARE factor. Someone that is educated, motivated, and truly cares that you get the very most out of your efforts (and financial investment)!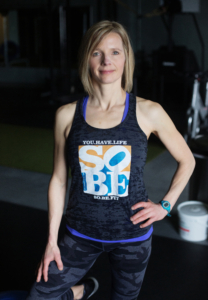 Karena Halman
Growing up in Saskatoon, Saskatchewan, I enjoyed participating in many different activities, which brought on injuries and a fascination with the function and dysfunction of the body. I have been working as a certified Massage Therapist for over 17 years and the search of more balance in my life lead me into fitness. I worked to change my lifestyle and about 8 years ago became a certified Personal Trainer. The body is a mystery and I love the challenge it brings me, no matter how I am working with it, massage, exercise or nutrition. I continue to strive for balance and a healthy lifestyle and hope that my passion can help others with their wellness journey.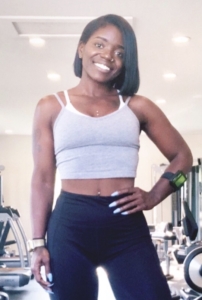 Christian Harold
Christian is 30 years old and has worked as a fitness instructor for a little under 2 years with a focus of group instructing for 1 year. Her favorite thing about training is the opportunity for growth physically and mentally. And is working toward a certification in Personal training through National Academy of Sports Medicine.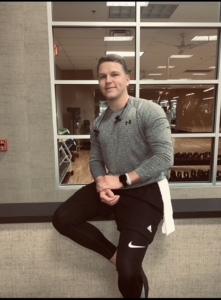 Jackson Snyder
Jackson has been a certified ACE Personal Trainer since 2016. He enjoys utilizing fitness as a tool to create sustainable life changes for each of his clients. Jackson knows the more success he can help his clients have inside of the gym the more success they're likely to have in every area of their life. Life is about momentum and I like to help clients generate that momentum in a fitness setting.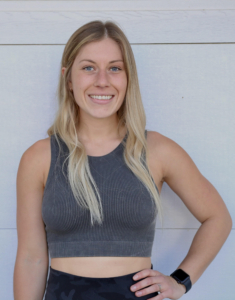 Kenzie Clifford
Kenzie Clifford is 25 years old and has worked as a personal trainer and group fitness instructor for 2 years. She is also a Registered Dietitian and works at Riley Children's Hospital. She loves all things fitness – from hiking with her dogs, doing Spartan races, running half marathons, and even playing on a flag football team. Her passion is to help people reach their fitness and health goals and live a healthy lifestyle!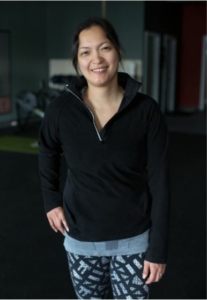 Janice Desiderio
Janice is committed to improving one's mind, body, and soul. Fitness Coach, Janice Desiderio, had a vision of helping people physically through exercise but to also help empower their mind and soul through healthy living.
It is said that every person is different. Janice teaches people how to listen to their bodies during exercise, during mealtime, and in any situation that may occur throughout the day. By learning how to exercise with proper form, one can tell what their body can and cannot do as well as what their body can now do after reaching their goals and being stronger and more durable than ever. Having a proper daily routine is also important. It allows someone to have a good balance between exercise and their lifestyle without being overwhelmed. When people find that balance, their professional and personal lives have more clarity and meaning to them. People are more focused at work and at home. They have more energy than ever before. They have serenity in their lives.
Janice has been a Personal Trainer for almost 12 years; however, she's been passionate about the Health and Fitness Industry for over 22 years. She received her certification through National Personal Training Institute (NPTI), a well-recognized institution that specializes in hands-on learning. Janice is also an Independent Distributor for Advocare, a vitamin and supplement company dedicated to helping people physically and financially. By being well rounded, she is able to help people achieve their goals of being leaner, faster, lowering their blood pressure, and/or getting rid of Diabetes all through exercise, proper nutrients, and teaching healthy living.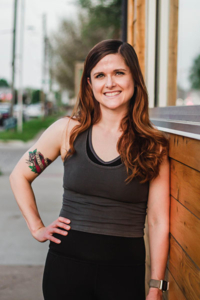 Lindsay de Las Alas
Lindsay de las Alas is NASM Certified Personal Trainer and mother of three living in downtown Indianapolis. She became involved with fitness in 2018 during her personal health journey where she lost almost 70 lbs and started strength training for the first time as an adult. Lindsay loves working with all populations, but she has a special place in her heart for beginners and busy, working women & moms. You'll often hear her talking to her clients about functional strength and focusing on quality over quantity during their sessions. Her favorite things to do in the gym are barbell deadlifts and getting in cardio on the stairmaster.